Last Updated 8 Feb 2011.

The ESU Lokpilot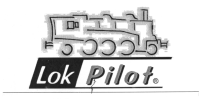 Now with Spanish manuals, translated by José Antonio Marcos
Find them in the buttom of the page
---
Note ! - This page is about the first lokpilot which came on the market - the lokpilot version 1. In the meantime ESU has released both
versions 2, 3 and 4 and even Mfx versions to the new Märklin Systems. There are not much difference on the surface, the specs are more or
less the same, with the same number of function-output and so on. The real difference are in the internal functions, which has made the Lokpilot
a VERY andvanced decoder, with loads of features.
The page will still be valid in many respects, but some things HAVE changed such as the function-outputs which now handle 250mA.
Unfortunately ESU has also changed some CV numbers which you use while programming the decoder. This means that the program you
can download here below, ONLY supports Lokpilots of version 1 !!!!.
Best regards, Kenneth Pallund - do read on anyway :-)
---
ESU are famous for their loksound decoders. Basically the lokpilot ARE a loksound decoder, but with no soundmodule
The Lokpilot automatically detects whether its on a Märklin/Motorola or DCC digital system.
It has no jumpers or dip-switches - all configuration is done on the track, using the controller (6021, intellibox,.....).
You therefore do not have to open the locomotive just to change the address.
And the best part - its half the price of a Märklin 60902.
The decoder is pretty small and is shrink-wrapped in plastic.

It has no screw-holes to fasten it with - so use double-sided tape.
I bought my decoder in Germany, so it was followed by a German manual, which can be hard to read. I hope that when
its bought in another country, it will be in the local language, or at least in English. If not you can get it from ESU
themselves
Download the manual here......
info-facts on the Lokpilot :
It runs only with permanent magnets.
It runs on : AC analog, DC analog, DCC digital and Märklin digital
It is standard fitted with at connector for easy conversion, ex. in ROCO locomotives.
It has connections for lights and two extra functions (F1+F2)
It supports the automatic brake sections, as provided by ex. Märklin and Lenz
It runs with 14 or 28 speed steps in Märklin digital and 128 in DCC
Shunting speed with F3 (halves the speed)
And lots more....
For people who uses Märklin digital, the Lokpilot is a dream. It has preprogrammed values for both the normal
Märklin permanent magnet, and for the HAMO-magnet.
I have tried the lokpilot with both types of magnet, with good results. With a HAMO-magnet
the performance is a bit better than with a normal Märklin 6090x decoder controlling the HAMO-magnet.
The only real bad thing about the Lokpilot, is its ability to handle larger currents on its function-outputs.
It can not handle as much current as Märklin 60902 or for that matter the Uhlenbrock decoders.
The Lokpilot can only handle 140mA per output and 300mA for all outputs together(which includes the light-outputs).
You therefore really have to use the special digital lightbulbs and smokegenerators. and use of a Telex-coupler,
may prove bad, since Telex-couplers generally use around 250mA or more. I you want to use a Telex it has to
be used toghether with a resistor around 56 Ohm/1Watt. Since the internal resistance of a Telex is around 70 Ohm,
the Telex will end up running at only half power, and it may therefore not be strong enough to uncouple correctly.
NEW INFO !!! I have just been told that when you lower the voltage to the light bulbs(like I have done),
you also lower the voltage of the function-outputs. Since I lowered to about half, my Telex coupler also
got half voltage, and therefore performed poorly. In order for both lights and Telexcoupler to perform good
you must not lower the light intensity, but try to reduce the intensity with Zener-diodes or resistors.
I have not verifired this info yet, since I no longer have the Lokpilot in a Telex-equipped locomotive.
Here the lokpilot is mounted in a 3072 (V100), with a HAMO magnet

Click on the pictures for a larger view
The Lokpilot features 20 parameters to setup up the decoder, to near every wish, and performance.
I have made a small program to help set up the lokpilot. Its written in Turbo-Pascal for DOS.
My program is only tested in DOS and I give no guaranty that it will work for you, since I never Thought it would be
running on other computers than my own.
| | |
| --- | --- |
| Screenshot | |
| | Click on the screenshot to download the program |
To sum it all up, I give the Lokpilot 5 stars ! - It will be my future choice for converting old locomotives with HAMO
magnets, and if I ever fry a 6090x, I'll buy a Lokpilot to replace it.
---
New note from 21-01-2007:
Here 5 years after this review was written, more than 25% of my locomotives are based on the Lokpilot, and I can still say that its a very
nice decoder indeed. As I also wrote at the top ESU has made new lokpilots in version 2 and 3. You can download the manuals here :
Manual for the version 2 - in english - click here......
Manual for the version 3 - in german - click here......
Lokpilot 4

Lokpilot 4 - updated (may require newer firmware in lokpilot for all settings to apply)
All manuals are translated by José Antonio Marcos
---
Back to main page

Email :kenneth@pallund.dk